Other System Interface - AC Type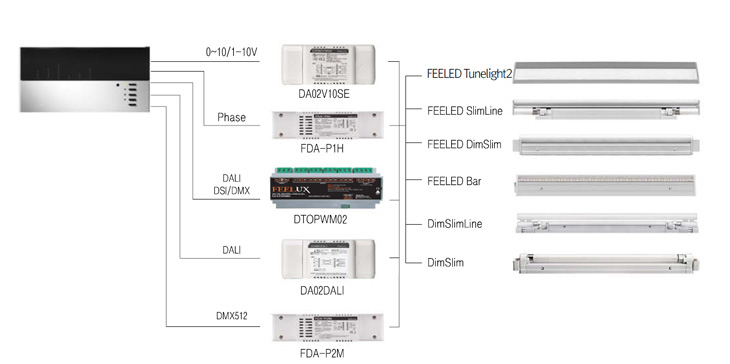 DA02V10SE (0-10V/1-10V to PWM translator)
2 Channels
Current Limit : Max. 2A/Ch
Input Signal : DC 0-10V/1-10V
Rated Input : AC 220 - 240V, 50/60Hz
Out Power : 220-240V, PWM output 2Ch
Max 10 pcs of DimSlim/DimSlimline/Led dimming products per channel and up to 400W per channel
Dimension : W139.8 X H58.4 X D33 (mm)

FDA-P1H (Phase to PWM translator)
Change incandescent lamp to Feelux dimmable T5 lamp! You don't need to change your pahse dimmers. You can use the existing installed ones by using FDA-P1H.
1 Channel, 2 output terminal blocks
Rated Input : AC 220-240V, 50/60Hz
Input Signal : Phase
Output Load : Max 10pcs of DimSlim/DimSlimLine/Led dimming products per channel and up to 400W per channel
Dimension : W220 X H50 X D35 (mm)

DTOPWM02 (DALI/DSI/DMX to PWM Translator)
DTOPWM02 will interface DimSlim PWM with any other DALI/DSL/DMX
manufactured control proprietary system.
A single DTOPWM02 can handle a total of 3,500 lamp watts.
4 independent PWM output signals for DimSlim
Maximum connecting load for individua output is 10amps/1750 lamp watts per circuit, or 50 fixtures per channel.
Availability
Translates standard DALI 4 device protocol with DALI
Translates standard DMX 512 protocol
Translates DSI protocol
Volt : AC 198 - 264V
Frequency : 50/60Hz
Current : 20amp-4m2 terminals
Mechanical fixing : DIN rail clip lock
Dimenson : W209 X H86 X D66 (mm)
Manual >


DA02DALI (DALI to PWM translator)
2channel
Dimension : W139.8 X H58.4 X D33 (mm)
Input Signal : DALI
Rated Input : AC 100-240V, 50/60Hz
Output Signal : PWM
Output Load : Max 10pcs of DimSlim/DimSlimLine/Led dimming products per channel and up to 300W per channel

FDA-P2M (DMX512 to PWM translator)
2channel
Dimension : W220 X H50 X D35 (mm)
Input Signal : DMX 512
Rated Input : AC 220-240V, 50/60Hz, 3A
Output Signal : PWM
Output Load : Max 10pcs of DimSlim/DimSlimLine/Led dimming products per channel and up to 300W per channel